A couple years ago, I took a job as a sales development representative (SDR) at TechValidate Software, a division of SurveyMonkey. I worked on a team of recent UC Berkeley and Stanford grads, all of whom were and still are amazingly gifted at selling, and who will doubtless become pinnacle sales leaders in Silicon Valley.
Unfortunately, a huge part of our job involved making 500 phone calls each week to marketing executives at large software companies. That level of expectation week after week will wear your nerves to pieces in a very short amount of time. I hit and exceeded my quota on a regular basis, but I may have prematurely aged myself in the process.
After about six months of this, I decided to put the phone down and start sending emails instead.
Within five days, I had booked 26 qualified meetings, using only email. The typical number on any given week was about eight meetings booked. Needless to say, those 26 meetings set a record, as you can see in the following screenshot of SFDC meetings booked: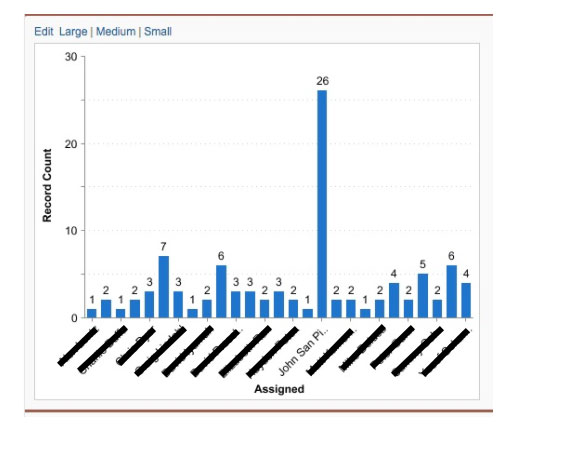 Not only had I set a new record at the company, I did it in a way that was considered unconventional. Our marketing team sent emails on the sales team's behalf each week, supplementing our cold calls, but those messages were rarely more than unnecessary pleasantries with weak calls to action. They certainly didn't do much in the way of booking meetings with qualified leads.
I'm not writing this to start the mundane and pointless "cold email versus cold calling" debate, which is about as useful as arguing the merits of thin-crust versus deep-dish pizza. Cold calling works in many scenarios. Think of a restaurant owner, who's on their feet for a large portion of the day and probably checks email less frequently than, say, a VP of digital marketing.
Before you say that I'm just terrible on the phone, take a look at a real review given to me by one of my peers: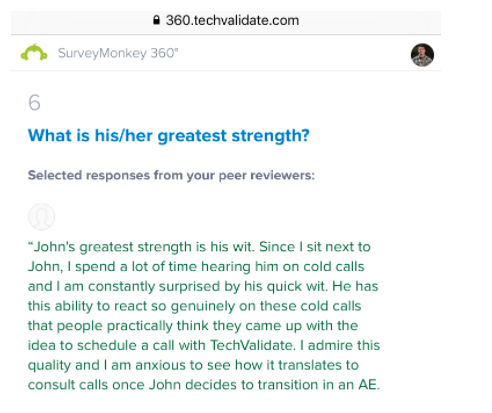 I just hated calling people.
Cold calling became a wildly inefficient way to do business. I'd spend most of the day navigating automated phone systems, waiting for the ringing to stop so I could leave a voicemail that usually wasn't returned. That repetitive slog started to put noticeably more strain on me each week, and I knew I had to make a change—one that would let me sell in a way that was efficient for both me and my would-be clients.
The trouble is, a lot of companies don't teach their employees how to write a truly effective cold email. That was where I found myself at TechValidate, when I knew I needed a better way to book meetings. So, to free myself from a life spent chained to the telephone, I learned how to write a cold email that would up my open rates and get actual responses.
Prospects on my list received emails that were short and to the point while explaining a business problem TechValidate could solve. The messages always utilized a piece of quantifiable evidence or social proof, then finished with a clear and concise call to action.
So what does it take to write the perfect cold email?
First, plan on keeping your message between three and five sentences. You also need to choose a subject line that will convince people to open the email, though bear in mind that email open rates are really just a vanity metric. The obvious goal of a cold email is to get a response that's relevant to your business and what you're trying to accomplish. I could write a 99-page treatise on what's wrong with most email subject lines, but to save time, here's a link to this mini-crash course on subject lines.
There's no one magic format for cold email. It will really depend on the client you're writing to. In the case of the following email below, I chose to tell a story about an existing customer, which is often a strong way to send an initial cold email:
Name,

<<company>>'s marketing team was always the bottleneck when the sales team needed fresh content to close a deal.

Using our software, they were able to create content on demand using real data from their satisfied clients.

As a result, the bandwidth bottleneck between sales and marketing was eliminated, allowing more deals to close faster.

Would you be open to speaking to hear more about how our software could help increase bandwidth on your team?

Thanks,

John
A good narrative style mimics the way we talk in real life (or should, at any rate), and it's much more subtle and tactful than saying something like, "Don't become a failure like <<company>>'s marketing team . . ." Using a third-party story lets you describe another person or company's so-called failures without sounding accusatory.
I was astounded at first when I started getting responses from people like the CMO of General Electric and other senior executives. By the time that 26th meeting was booked, though, I realized that people are motivated to respond to cold emails when they're thoughtful, well-written, and, most important, to the point.
The result didn't drastically change the way we did business; cold calling remained the main form of Business Development. But it did show the sales team that there are options out there besides the phone, and that learning how to be personable over cold email is entirely possible if you put in the work.
At the end of the day, treat the email as if you're writing to yourself.
If you got your own email, would you read it?