I was checking my inbox when I landed on an email template that really made me cringe. 😨
The email in question was ripping off an email template I wrote at least 8 years ago. 🙄 They even stole my subject line, "quick question." 
Once upon a time, this template worked really well for my client's specific needs. It generated over a million dollars in sales revenue. However, it wasn't made for everyone to blindly steal and copy. 😒  🤡
Why I HATE publishing my email templates
I've been a B2B copywriter for more than a decade. I've written more than 10,000 sales emails that made over a billion dollars in revenue for many major B2B SaaS companies.
I can't tell you how many times people have asked me to send them my "best email templates" over the years. After many requests from Predictable Revenue's Aaron Ross and Hubspot, I decided to publish some of the older templates my clients were no longer using.
The content was extremely popular, and my blog post was Hubpsot's most popular sales blog post for a very long time.
However, the end result was me getting spammed with my very own email templates. 🙄 🙄 🙄 🙄 
That Hubspot blog post happened more than 5 years ago, and I'm still getting these lazy copycats sending me a butchered version of my own email template.
Watch this quick video I made that explains why you shouldn't blindly copy anyone's email template:
**HINT: It has NOTHING to do with the ethics of plagiarism, but rather the fact this is highly ineffective. An email template is only effective when it's personalized to your business' unique value proposition and the audience that you're selling to. 
The Queen of Cold Email is Back…but even better and more Bada$$!
I've been on cold email hiatus for a little bit. I've been focusing on investing in SaaS companies and my own pursuits as a serial software entrepreneur (along with rapping and fashion designing 🧞‍♀️ ). 
But I'm happy to say I'm BACK, ready to give you invaluable advice to improve your sales prospecting emails, and optimize your outbound sales and demand generation efforts! 🐊  🔥
Except this time I'm going to be doing a lot more video content, engaging on social media, and doing some interactive livestreams to answer your sales and copywriting questions.
I'll also be sharing tips to help you become better at negotiating, and how to be more persuasive in general.
Want to make sure you never miss out on my free advice 💴 💶 and get invites to private workshops and training sessions? 😎 
…If you haven't already, be sure to sign up for the SalesFolk newsletter (just enter your email in the corner), and follow:
Get your free invite to my next Cold Email Mini-Workshop…
I'm actually hosting a private Livestream event via Zoom on
Wednesday, February 3rd 2021 at 2:30pm EST (GMT -5)
.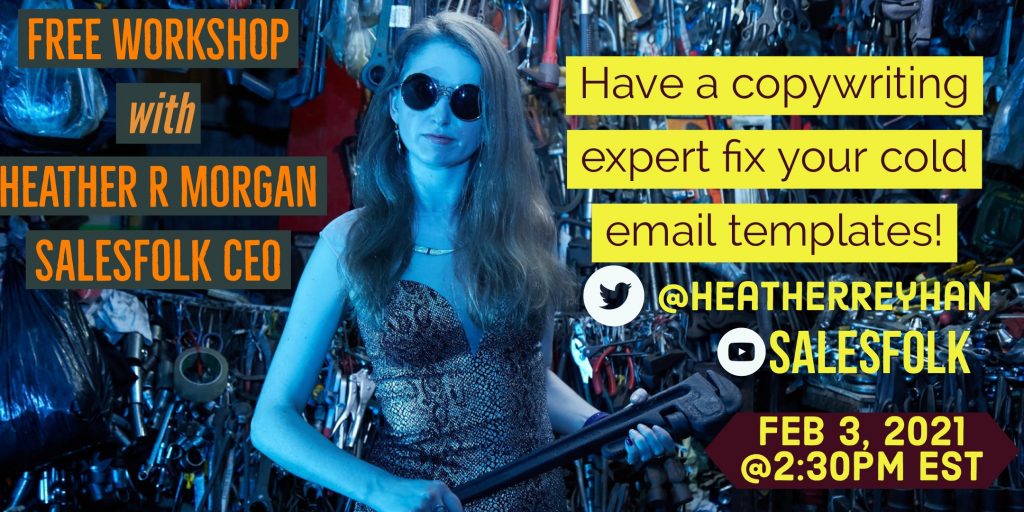 I'll be critiquing some crummy cold emails and also giving much more "gentle" free feedback on your cold emails.
You can register for the event with this link, and you'll be sent a calendar invite and the information to join this complimentary event. I'm limiting the event to 100 participants, so sign up soon before spots run out!