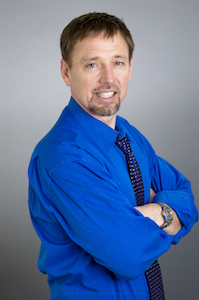 Have you ever wondered why you didn't get a response to a sales email or how to avoid saying things that could blow major deals?
Award-winning author and former FBI lead international kidnapping negotiator, Chris Voss, has a rare talent for negotiations. He has worked on cases such as the "Blind Sheikh Case," the TWA Flight 800 catastrophe, and many other hostage negotiations. During Chris's 24 year tenure in the Bureau, he was trained in the art of negotiation by not only the FBI but Scotland Yard and Harvard Law School. This was the inspiration for his book, "Never Split the Difference." (I really recommend reading it if you haven't yet, it is one of the best business books I have read in the last 5 years.)
Chris has been testing and perfecting his negotiation techniques for years, and currently teaches business negotiation at the University of Southern California's Marshall School of Business and Georgetown University's McDonough School of Business. He has also lectured at Harvard, the Kellogg School of Management, and many other international institutions.
So even if you're not negotiating with war criminals and drug lords, you can still use his negotiation tips in your work and everyday life in order to win more deals.
At the end of 2016 I began to plan my 2017 reading list. Several of my friends, both of which are CEOs at fast-growing tech companies told me that Chris' book was one of their favorite reads of the year. I downloaded the book on my Kindle, and started reading it on my way back to the Bay Area from Kuala Lumpur, and in the first few pages, I was hooked. As a writer, I'm very skeptical and critical of other people's writing. I have a hard time "reading things for fun" because I'm always thinking about what the writer's intention was, and what their angle is. But when I was reading Never Split the Difference, I just got sucked in: it was gripping and entertaining, but every page was packed full of actionable advice and useful examples.
By the time I landed in San Francisco I decided there was only one thing to do: cold email Chris Voss and ask him to do a webinar interview. The following recording is from our recent webinar.
In this recorded webinar, you'll learn:
Why salespeople should actually be afraid of YES
What many of the "classic negotiation tactics" you hear about are missing
Simple tips to become a better negotiator
How to use tested negotiation tactics to quickly develop rapport and trust with even the most skeptical buyers
Strategies for proactively confronting and overcoming even the toughest objections
And more
Watch it for yourself now: