Just sending your prospecting list one or two cold emails is not enough.
If you're sending any less than 8 emails in your outbound campaign, you're likely missing out on the opportunity to set up dozens of appointments with qualified leads from your list.
Recently we helped Ambition, a cool YC startup that helps businesses gamify their sales to increase productivity, with their outbound email campaign to help them crush their Q4 numbers. Using our cold email copy and email automation software to load their prospecting list, Ambition was able to get 73 responses from new leads, with 23 of those responses coming from emails 6-8.
To learn more about the premise behind the engagement, you can read our recent blog post, but here's an overview of what happened:
Ambition built a list of 578 prospects (291 VP/Directors of sales and 287 VP/Directors of Sales Operations)
We created 4 email campaigns (2 campaigns for each sales persona), each with 8 email touchpoints per campaign, totaling 32 unique cold emails.
There were some bounces in the first few initial touches (81 in all 4 campaigns), so we removed those contacts from the list.
End result: 73 responses from Ambition's leads
Because I'm a HUGE game theory nerd, here's a visualization of what the process behind our campaign looked like: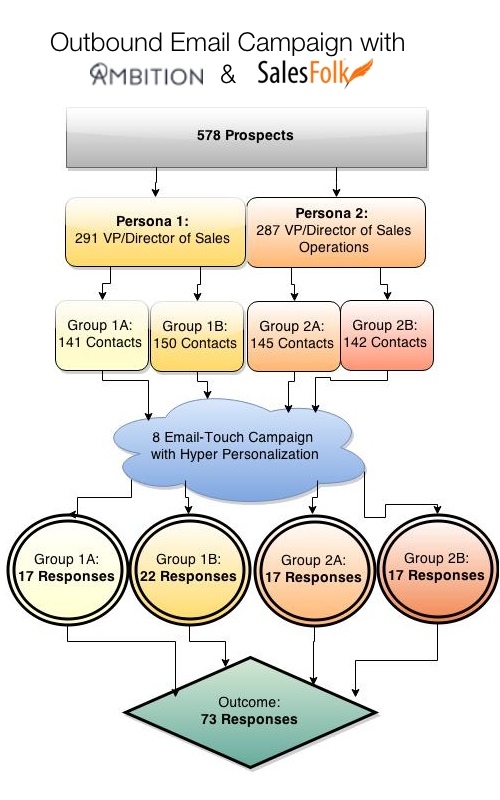 The reason for setting up the campaign like this instead of just writing 8 email touches for all 578 emails is that every email campaign should be specifically written for a clear persona. In this case, Ambition has 2 personas: VP/Director of Sales and VP/Director of Sales Operations. While these roles are similar, they are not identical and therefore should not receive identical copy.
The purpose of splitting up each persona into 2 groups is so you can A/B test different messaging to see what works better with your audience. In our campaigns we tested Ambition's various value props and what psychologies resonated better (fear of loss, value add, competition, etc). These are the actual stats from our campaigns:
Why Successful Outbound Email Campaigns Require Persistence
The overall results of our campaign helped us discover more about which of Ambition's value propositions resonated most strongly with their target audience, and what messaging they should use.
Notice that email touch #6 and #8 in the "VP Sales: 1B campaign" actually have more responses than the first email? Touch #6 has 5 responses and  Touch #8 has 3 responses, but Touch #1 only got 1 response. If Ambition had stopped emailing after only 4 touches, they would have missed out on 11 responses from their "VP Sales: 1B Campaign."
Looking at the chart below, look at how many responses Ambition got across each of their 8 touchpoints: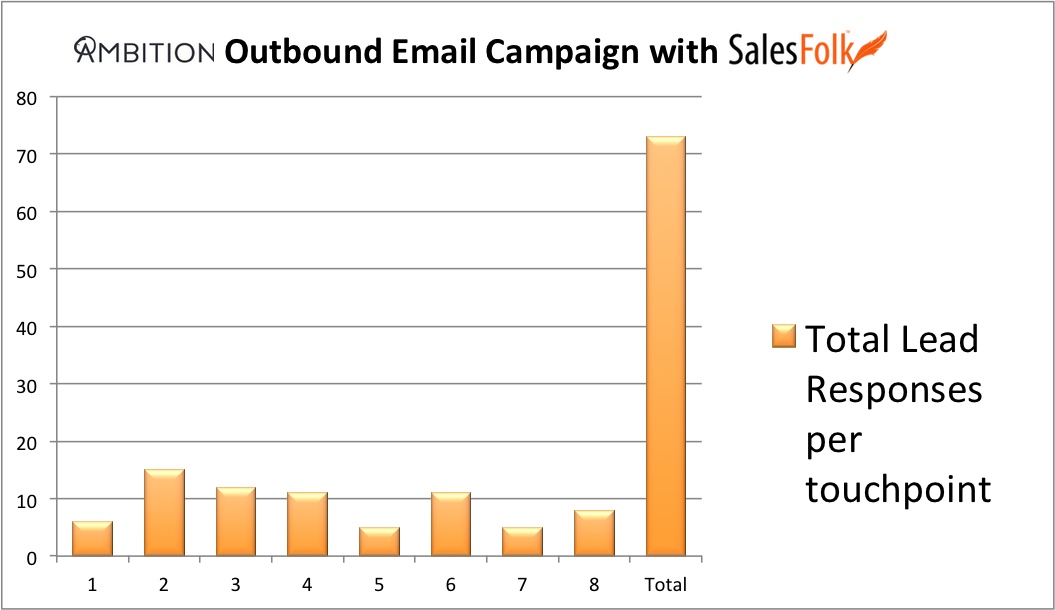 If Ambition had quit sending emails after touchpoint #3, they would have missed out on 40 responses from their leads. That's over half of the total leads they got in their entire campaign.
Looking at the stats above and dozens of other cold email campaigns we've run, persistence definitely pays off for outbound email. However, you can't email people indefinitely either without seeming creepy or like a spammer.
That's why sending 8 emails is typically the magic number because it's just persistent enough without being too irritating. (But you should always test to see what works best for you and your industry!)
Every email you send has a clear cost and benefit. While measuring the benefits of sending cold email is fairly straightforward in terms of generating warm conversations with qualified leads, the costs are a little more opaque. One simple indicator of the cost of your cold email would be the number of unsubscribe emails that you get, or the equivalent, when someone tells you to "never contact them again."Generally you're in a good direction as long as you're getting more positive responses than unsubscribes, but other factors such as the value of a lead also come into play.
Although SPAM laws vary around the world, cold email etiquette dictates you're typically in good shape as long as you're smart with your targeting, adding value in your emails, and not obnoxious.
Check out our Cold Email Mastery Course for more tips on crafting scalable cold email campaigns.