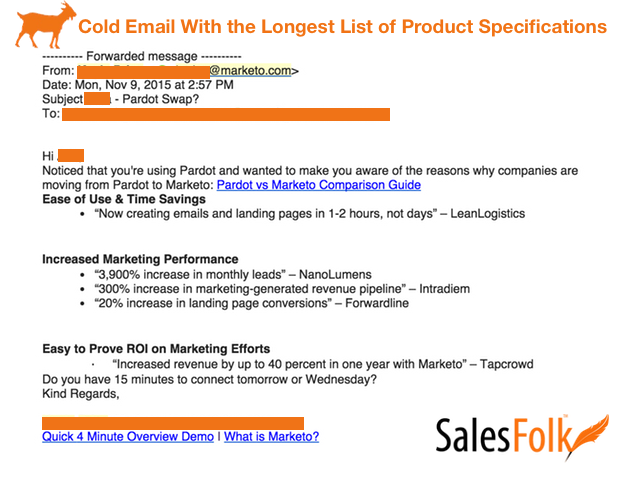 While this email has a lot of information packed into it, it does nothing to command the attention of the reader. 
Instead of focusing on a painful problem that Marketo can solve, the first line of the email tells the reader to go over an incredibly long list of product features/stats that resembles the back of a Windows 8 installation package.  If the reader isn't immediately captivated in the first line with enticing value, they're probably not going to read through your huge list of bullet points.
Why this email fails and got on "The Hall of Shame":
Too many product specs and not enough focus

No strong value or clear benefits–

-just a lot of jargon and a bunch of statistics without context

The Call to Action lacks an incentive
How to Fix This Cold Email:
This email could be improved by starting with a more focused and captivating value proposition, then cementing it with a convincing statistic that provides an example of social proof.
Have bad cold emails in your inbox? Send them to us!
Help us fight the thoughtless spammers, one crappy cold email at a time by sending us the worst cold emails you've ever received.
We'll put them up anonymously on the "Hall of Shame," and shoot you an email when they go live.
Please send all submissions to "[email protected]."
(And feel free to suggest what you want to nominate the "bad cold email for!")