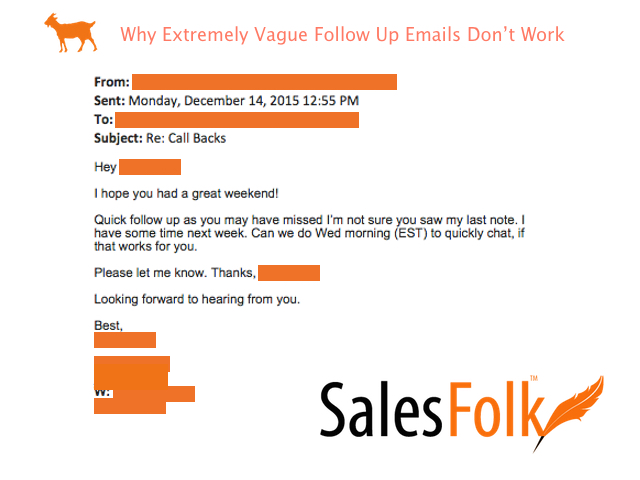 Cold Email Hall of Shame Award: The Extremely Vague Follow Up Email
This email is hilarious in that it tries to land a meeting with the prospect while giving literally no information.  It begins with a blatantly erroneous sentence — and asks the prospect for a meeting to chat about something he or she is completely uninformed about.  Assuming the recipient never saw your previous emails (if you did send them), then how would he or she know what the meeting is about, or who is sending this email to them?
Although the sender tries their best to assume familiarity, it's pretty obvious that they're still a complete stranger.
Why do they assume that the reader will want to schedule a call to "chat" with someone they don't know anything about or trust.
This isn't the "Craigslist personals."
This thoughtless email is is obnoxious and is likely to piss people off and get them to hit the spam button.
Why this email fails and got on "The Hall of Shame":
It's incredibly vague and has no context around who the sender is or what they want

There's no benefit to the prospect

It does not entice the reader to respond or take a call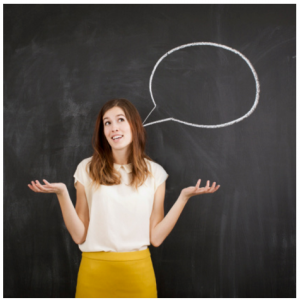 How to Fix This Bad Cold Email:
It would be great if this email actually provided some kind of value to the reader. It would also help to give more context as to who the sender is, and ideally provide social proof to make the reader more inclined to trust the sender enough to actually want to write a reply.  
Have bad cold emails in your inbox? Send them to us!
Help us fight the thoughtless spammers, one crappy cold email at a time by sending us the worst cold emails you've ever received.
We'll put them up anonymously on the "Hall of Shame," and shoot you an email when they go live.
Please send all submissions to "[email protected]."
(And feel free to suggest what you want to nominate the "bad cold email for!")