How specific is your "buyer persona," or "Ideal Customer Profile" (ICP)? 
In other words, how do you define your target audience or ideal customer when doing sales outreach?
Too often I see sales and marketing leaders defining their buyer personas as "Marketing" or "C-Suite." However, a CEO and a CTO are very different people with extremely different responsibilities and priorities. Even more commonly, I see "Operations" getting lumped together with marketing and extremely different departments that manage different aspects of the business.
How to build solid "Buyer Personas" for more effective sales campaigns
It's so important to think carefully about your audience, and try to be as specific as possible when defining your ideal customer.  
Whenever possible, try to define:
Which role or roles you're trying to target (

if they have different priorities they should be

DIFFERENT PERSONAS!

) 

The company size (

roles at a 20-person startup are very different than a 2000 person company; a VP Marketing at a 10-person startup probably has less authority and budget than a Director of Marketing at a 300-person company

.)

Industry –you don't always have to segment by this if your business use case is generally the same, but it's worth thinking about in terms of

what customer examples you reference

. 

Other firmographic information

that determines how qualified a prospective customer is to buy or not (

are they hiring, are they growing or shrinking, did they raise money recently, what software they're using…?

)
Example of redefining a Buyer Persona & copyediting a real Cold Email 📝
If you found this video helpful, please like it and share it with your friends or coworkers. 
More free Cold Email treats 🍡🍦 from my sold-out workshop 
The video I shared is part two in a Youtube video/blog series, based on my recent sold-out Cold Email Copyediting Workshop. Since everyone who attended was very engaged and had many questions, the Zoom event went into overtime and lasted about an hour. Therefore, I decided to chop it into bitesize videos, which I'm sharing on the SalesFolk blog and SalesFolk Youtube channel over the next few weeks.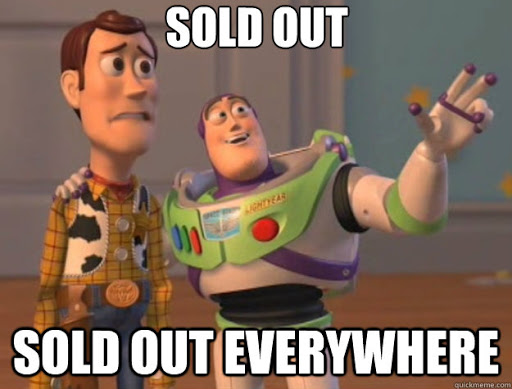 Be sure to subscribe to our Youtube channel if you haven't already, in order to not miss out on free tips on cold email, sales, negotiation, and optimizing business processes.
In case you missed it, here's part 1, "Why most emails don't need graphs or images." 
Want help with cold email or sales prospecting efforts? Here's what you can do…⬇️
First of all, feel free to ask questions by commenting directly on the Youtube video I shared or this blog post.  I'll try to directly respond to your comments, assuming they're relevant and NOT spam (We delete comments with external links to other websites). If the question is more complex, I might even create a Youtube video to answer, or include it as material in our upcoming Cold Email Course.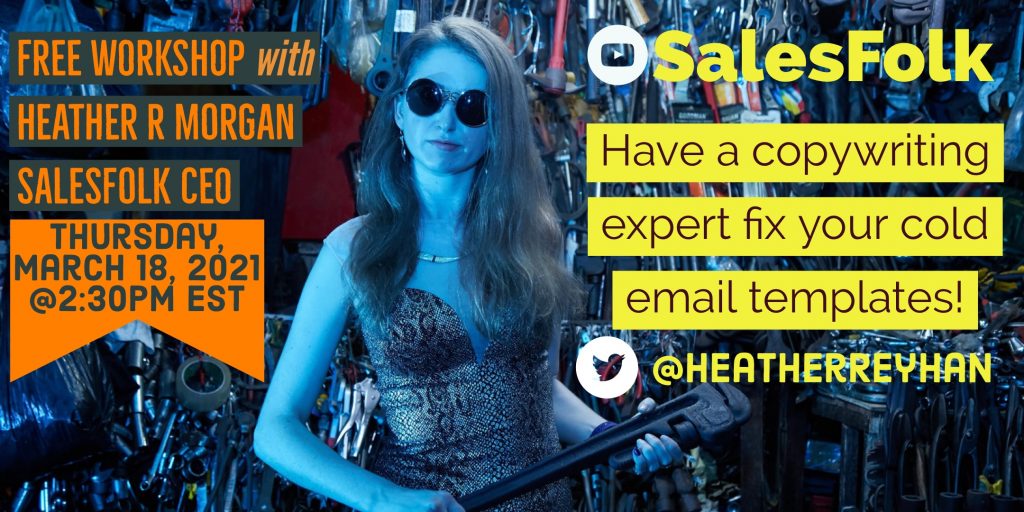 I will be holding another free Cold Email Workshop on
Thursday, March 18 at 2:30pm EST
. Please RSVP promptly, as space is limited to 150 people, and the last one sold out in under 48 hours with zero marketing.
If you would like to
get free feedback on your email templates, please
submit your email copy here by Friday, March 12th at 5pm EST
.
 Please keep in mind this is also on a first-come, first-serve basis, so the sooner you submit an example, the more likely it is I'll review it in the next workshop. 
Finally, I am planning to do some more comprehensive workshops for small groups of people.  This will be a much more affordable alternative to my hourly consulting. It's also a way I can help more people and businesses, as I have very limited bandwidth for these sessions, which are currently mostly reserved for my investor portfolio companies. 
If you're interested in having me do a private workshop for you and your sales team, please submit a consultation request, and we can discuss. Just add "(request private group session)" to your title in our website form. 
Finally, just make sure you're subscribed ↖️ to the SalesFolk email newsletter 💌 (we'll actually be setting up automated SMS 📱soon so we can text you "cold email tips of the week) to get updates. That way you'll hear about free workshops, paid cold email copywriting training sessions, and announcements and discounts related to our upcoming Cold Email Course. 🐐