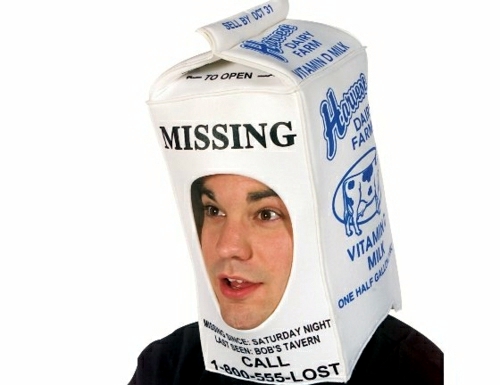 Are your cold email messages actively engaging your prospects, or just putting them to sleep?
Even awesome companies like Zenefits can improve their cold email copy. Recently many CEOs have forwarded me the cold emails Zenefits has been sending them, asking me to critique them in my next post. All the prospects who have received these cold emails from Zenefits have complained that they are too vague and incredibly dull.
This week's cold email critique will be dedicated to helping Zenefits improve their cold email campaigns by making their messages more benefit-driven and relevant to their prospects.
Here's the cold email Zenefits sent: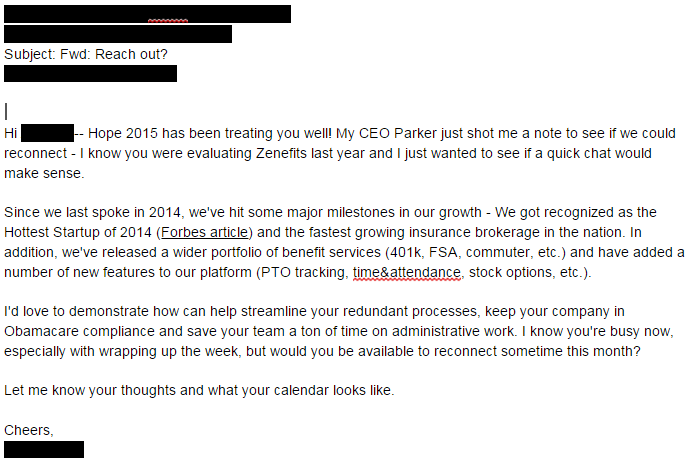 Mistake #1: Don't Lose Prospects with Boring, Generic Cold Email Intros
"Hope 2015 has been treating you well! My CEO Parker just shot me a note to see if we could reconnect –  I know you were evaluating Zenefits last year and I just wanted to see if a quick chat would make sense."
Your introduction's goal is to hook prospects and keep them fully engaged in your message. Each sentence of your cold email should make your prospects want to keep reading. Boring intros like this one, do nothing to excite or intrigue prospects. When your prospects feel like there's nothing in it for them on the other end of your email, they're going to give up and hit the delete button.
If you want to warm up your prospects, you need to put them at ease. You need to convince them that reading and responding to your email is worth their time. Nothing turns off your prospects more than another crappy canned cold email message. Your prospects will be more open to your message if it has a conversational tone. Most people have their guard up against salesy or gimmicky marketing pitches, but you can lower their defenses by taking a more human tone that feels like a one-on-one message.
Cold Email Pro Tip #1: Everyone loves to have their ego stroked. Instead of starting your cold emails with a self-serving angle, compliment your prospects or ask them an intelligent question that speaks to their role/expertise. Taking an ounce of interest in what your prospects think, feel and care about goes a long ways toward getting more responses.
(For more tips on writing engaging cold email introductions, check out this post.)
Mistake #2: Turning Off Prospects With Self-Focused Messages
"Since we last spoke in 2014, we've hit some major milestones in our growth – We got recognized as the Hottest Startup of 2014 (Forbes article) and the fastest growing insurance brokerage in the nation."
Your prospects don't care about how many awards you've won or the number of milestones you've achieved. They only care about how your product can help improve their business or life.
No one likes a show off, so avoid talking too much about yourself or your company. Remember, it's not about you; it's about the customer. Your prospects want to see that you understand their business and the issues they face on a daily basis. Focusing on yourself comes across as obnoxious and disingenuous, which turns your prospects off completely.
Pro Tip #2: Give your prospects a message they can relate to. Put yourself in your prospects' shoes, and think about who your ideal buyer persona is. Considering these questions before you begin your campaign will help you develop messages that speak directly to your prospects and their needs:
What are the buyer's pain points?
How will this person benefit from my product or service?
How will they use they use my product?
Are there any objections this person might have to prevent them from responding or buying?
(For more tips on avoiding vanity in your cold emails, check out this post.)
Mistake #3: Overwhelming Your Prospects With Too Much Information
"In addition, we've released a wider portfolio of benefit services (401k, FSA, commuter, etc.) and have added a number of new features to our platform (PTO tracking, time&attendance, stock options, etc.)."
Everyone gets excited about new products and features, but focusing too heavily on these distracts from your core message. Don't try to do too much with your cold emails. The longer your emails drag on, the more likely your prospects will become bored and give up.
Your prospects aren't impressed by all the sleek new bells and whistles your product has to offer. They only want to know how your product is going to help make their lives easier. People don't have time to read and wade their way through jargon. Don't waste your time or the readers, and just focus each email on one short and sweet killer benefit. Remove all the other fluff – it doesn't add value, and actually decreases your chance of getting a response.
Cold Email Pro Tip #3: If you're relying on bullet points to get your point across, you're doing it wrong. Resist the urge to list out all your product's features. Just choose one feature/benefit and focus your entire message on that thing, and how it adds value.
You don't have to go full-kimono and reveal everything on the first email. All you have to do is get them to respond; you can explain more on the phone after you get that "first date."
Mistake #4: Show Your Prospects Your Value, Don't Tell.
"I'd love to demonstrate how can help streamline your redundant processes, keep your company in Obamacare compliance and save your team a ton of time on administrative work. I know you're busy now, especially with wrapping up the week, but would you be available to reconnect sometime this month?"
Your prospects' inboxes are full of cold emails claiming to help save time and increase productivity. So, how can you make your cold emails stand out from the rest? Instead of telling your prospects how awesome your product is, prove it to them.
If I was reading this email from Zenefits and had no idea who they were, I would be skeptical of all the things they were promising. If I was their prospect, this is what I would think:
"Does this startup have any customers or results that show the value they've delivered to their customers? …I don't know, but I'd be a lot more convinced of their value if I saw names and numbers…"
Col Email Pro Tip #4: Prove your worth by including some kind of social proof that demonstrates the benefit your product/service can deliver. Include a "mini case study sentence" that shows statistics that help quantify your value. Pointing to real results not only builds trust and credibility with your prospects, but also helps to ease their doubts, making it easier for your prospects to say yes.
Need more examples? Check out this post we did on crafting social proof sentences.